Heather Dunivon
LPC, CCAR, SSS
Relationships are the key to keep our hearts ticking. Along with Rudy, my therapy dog I want to partner with you to work on creating healthier relationships with your loved ones, co-workers, and most importantly, yourself.
Regardless of your experiences, I am ready to work with you to deal with any issues you face. Together we can help find your sense of happiness and the healthy life that you are searching for.
Having worked with women for over 14 years in sexual health education, my passion for helping them led me to seek my future in counseling. I carry the Sensuality, Sexuality & Survival certificate empowering me to work with those whose intimacy has been impacted by cancer. This program
allows me to work side by side with current cancer fighters, survivors, and their partners in dealing with sexual health-related intimacy.
I received my Bachelor's in Human Services from Baker College and received my Masters of Counseling program at Spring Arbor University.
Working with 6th-12th-grade students in my parish as the Youth Minister has allowed me to understand more about the teenage mind, parental frustrations, and current social situations that they are trying to navigate. Using faith-based techniques allow clients to discuss their problems and goals from a religious frame of reference when desired.
As a Certified Recovery Coach (CCAR) I am capable of working with those seeking assistance in their substance abuse recovery.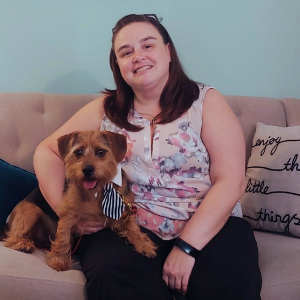 Adult Individual (18+), Couples, LGBTQ+, Teens (13-18)
ADHD (Non Medication Treatment), Anger Management, Career Counseling, Caregiver Fatigue, Chronic Illness/Chronic Pain, College Students/Transitions, Depression, End of Life/Terminal Illness, Grief, Mood Disorders, Obsessive Compulsive Disorder, Self Esteem, Sex Positive/Kink Allied, Spirituality, Stress, Trauma/PTSD, Women's Issues
Accepting New Clients- Limited Availability