Massage Therapy
---
All too often we get caught up running through the motions of the day and don't take the time to acknowledge what we've accomplished and taken care of our physical and psychological needs.
The integrative massage technique is based on the idea that not just one massage is right for every problem. That is why, through using a variety of techniques, every individual problem of the body can be targeted and addressed with its own approach producing optimal results.
The client takes an active role in the therapy, working closely with the therapist. The relationship between client and therapist is crucial in the process. It is important for the client to be comfortable with the therapist and feel safe in their environment. As a team, you and the I will meet and discuss what you are looking for and what techniques will best suit your needs.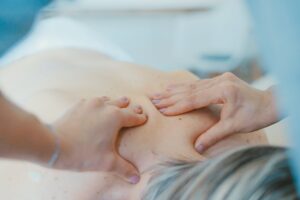 ---
Mandy Tyler, LMT- Okemos North Office
Give your body the gift of healing, with a 60 or 90-minute massage. Our highly skilled massage therapist will partner with you to design a perfect treatment plan for long-term wellness.
---
For an Appointment Call or Text (517) 289-2021